Politics and Sociology
BA (Hons)
UCAS code: LL32
Discover how political ideas and initiatives shape societies as you immerse yourself in political analysis, expand your sociological imagination, and relate social and cultural themes to real-world political events.
Overview
This joint honours degree combines the interrelated disciplines of politics and sociology. It will equip you with an in-depth understanding of the political and social landscape, including the social forces that create and sustain political institutions. If you are curious about how decisions are made and communicated, or have thought about a career writing laws, running a community organisation, or working in the Civil Service or Parliament, then our Politics and Sociology degree is for you. You will gain a real-life understanding of the world of politics, looking at current practice in the UK, while also focusing on developments and changes around the world. This is balanced with the analysis of social trends and the study of sociological developments in political, cultural and historical contexts. The course provides a unique insight into policy making in practice, enabling you to explore the nature and impact of social challenges alongside the opportunities and constraints of associated political decisions and policies. You will graduate with a set of key transferable skills including the ability to conduct research, craft a message to communicate a particular point of view and analyse and understand complex information.
Course features
International students can apply

Learn a language option available

Sandwich year option available

Studying abroad option available

Work placement opportunity
What you'll study
In Year 1 of the Politics and Sociology course, you will explore the foundations of political analysis and immerse yourself in political systems and institutions, while also gaining an overview of international relations. You will critically examine the core ideas central to the study of politics and develop an understanding of how politics works in practice. Receiving a grounding in sociological theory, you will be immersed in the study of power through political sociology and engage in an introduction to cultural studies. There is also the opportunity to participate in a number of educational and cultural activities as part of an optional three-day, two-night field trip to London.
Introduction to Cultural Studies
Introduction to International Relations
Introduction to Political Concepts and Theory
Introduction to Political Systems and Institutions
Thinking Sociologically: Sociological Theory and Applications
Year 2 of the course focuses on European politics and compares the governments and politics of France, Germany, Poland, Greece and Italy. You will conduct an in-depth exploration of the policymaking process and choose to explore topics including voting and election systems, US politics, or the politics of migration. The broad theoretical knowledge you have gained in sociology will be applied to a range of contexts, with the opportunity to study armed conflicts and political violence, cultural understandings of the globalised world, and class, culture and conflict in contemporary British society. There is an emphasis on the development of skills that will enhance employability and immerse you in local community activism, with the additional opportunity to undertake archival work and engage with specialist speakers and organisations on an optional field trip to Amsterdam.
Comparative European Politics
Policy Making and Researching Politics
States, Conflict and Political Violence
Elections and Voting Systems
Preparing for Work in Politics
The Politics of Migration
Cultural Analysis in a Global World
Work-based Learning and Employability 1
Please note, if you wish to learn a language as integrated study in Year 2 of this degree, you can choose the Language 1 module instead of either a Politics or Sociology optional module. This means you would study one Politics option and the language module, or one Sociology option and the language module.
In Year 3 of the Politics and Sociology degree you will study political communication and have the opportunity to undertake a work placement in a political or politically-related field, produce some independent research, and focus on topics such as advanced parliamentary studies, political activism and the role of think tanks. Contemporary sociological themes, reflecting on varied subjects from terrorism to sexual desires, bring further depth and specialism to your knowledge and skills, with the research-led curriculum reflecting the cutting edge specialisms of the programme team. There is also the chance to bring an enhanced international dimension to your studies with an optional field trip to a European city to explore its history, culture, politics and social organisations.
Sociology of the Body and the Emotions
Strategic Political Communications
Advanced Parliamentary Studies
Guns and Government: The Politics of Northern Ireland
Critical Terrorism Studies
Social, Cultural and Political Ideas
Socio-Cultural Issues and Questions
Please note, if you wish to learn a language as integrated study in Year 3 of this degree, you can choose the Language 2 module instead of either a Politics or Sociology optional module. This means you would study one Politics option and one Sociology option and the language module, or two Sociology options and the language module.
Optional modules provide an element of choice within the course curriculum. The availability of optional modules may vary from year to year and will be subject to minimum student numbers being achieved. This means that the availability of specific optional modules cannot be guaranteed. Optional module selection may also be affected by timetabling requirements. Some restrictions on optional module choice or combinations of optional modules may apply.
How you'll study
The course includes a combination of lectures, tutorials, seminars and practical workshops. There will also be opportunities to participate in field trips, for example to the Scottish Parliament.
How you'll be assessed
Politics modules will be assessed through a combination of essays, reports, debates, presentations and practical work.
Sociology modules will be assessed using a variety of methods including essays, case studies, portfolios, oral presentations, e-log books, completion of directed tasks, class tests and examinations.
Who will be teaching you
The programme is taught by academic experts and active practitioners in politics and sociology. The current research interests and specialisms of the programme team include political history, political communication, the politics of migration and voting and electoral systems, as well as issues of conflict identity and childhood.
The programme team present papers at international academic conferences, publish books and journal articles, and actively participate in debates and interviews in the media. The course also makes use of visiting speakers such as politicians and those working in politics who can offer additional, insightful first-hand perspectives.
Entry criteria
Entry requirements
Typical offer 112-120 UCAS Tariff points. No specific subjects are required.
Example offers
| Qualification | Requirement |
| --- | --- |
| A Level | BBC-BBB. |
| BTEC Extended Diploma (or combination of BTEC QCF qualifications) | Distinction, Merit, Merit (DMM). |
| T Level | Overall grade of Merit. |
| International Baccalaureate (IB) | We are happy to accept IB qualifications which achieve the required number of UCAS Tariff points. |
| Access to Higher Education Diploma | 45 credits at Level 3, for example 15 credits at Distinction and 30 credits at Merit or 24 credits at Distinction and 21 credits at Merit. The required total can be attained from various credit combinations. |
Please note, the above examples may differ from actual offers made. A combination of A Level and BTEC awards may also be accepted.
If you have a minimum of two A Levels (or equivalent), there is no maximum number of qualifications that we will accept UCAS points from. This includes additional qualifications such as Extended Project Qualification (EPQ), AS Levels that haven't been continued to A Level, and General Studies AS or A Level awards.
English language requirements
International students require IELTS 6.0, with a score no lower than 5.5 in each individual component, or an equivalent English language qualification.
If your current level of English is half a band, one band, or one-and-a-half bands lower, either overall or in one or two elements, you may want to consider our Pre-Sessional English course.
How to apply
Should you accept an offer of a place to study with us and formally enrol as a student, you will be subject to the provisions of the regulations, rules, codes, conditions and policies which apply to our students. These are available at www.edgehill.ac.uk/studentterms.
Did you know?
If you join a full time undergraduate degree at Edge Hill University, we will guarantee you the offer of a room in our halls of residence for the first year of your course.
Discover our accommodation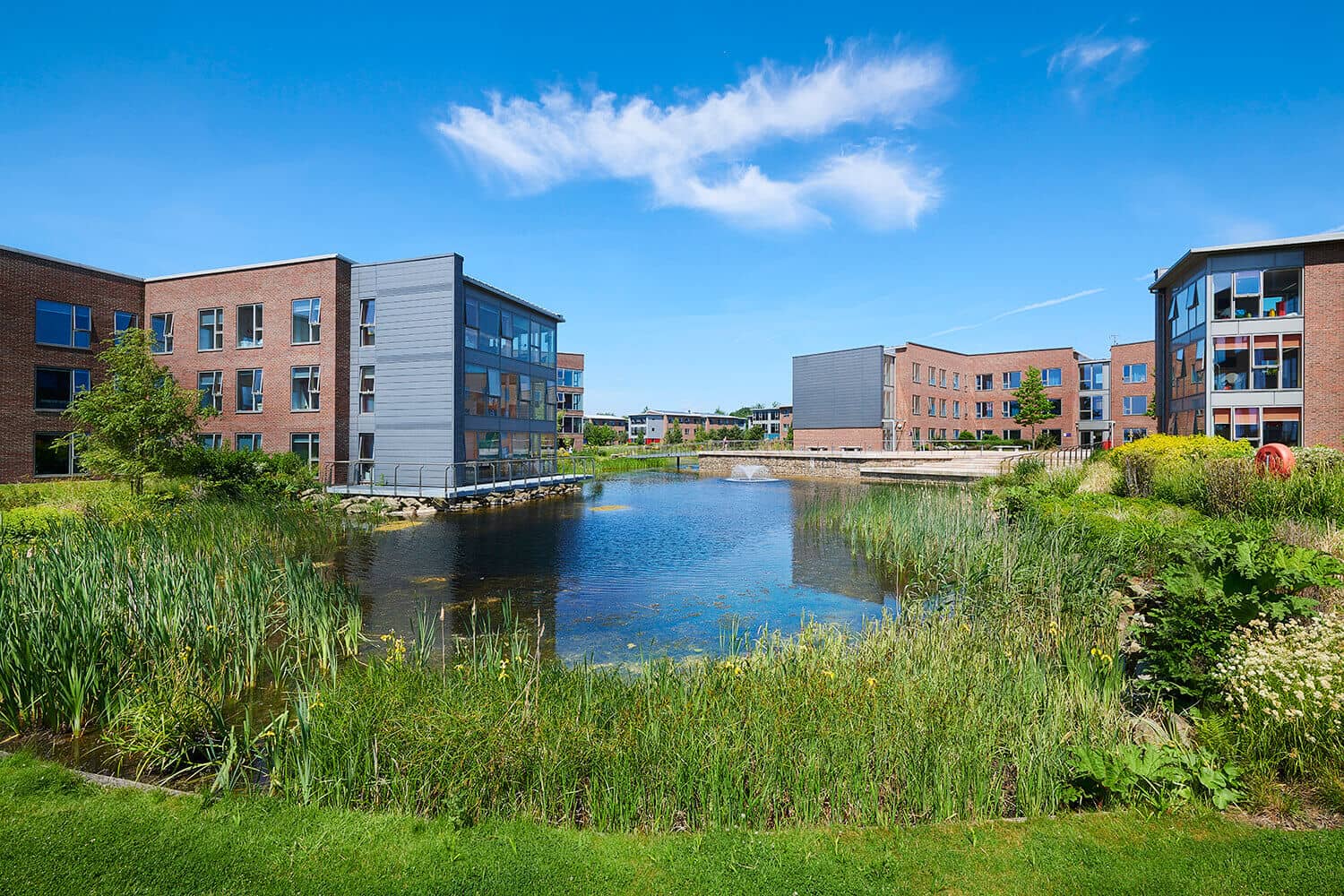 Facilities
The £6million Law and Psychology building provides contemporary teaching and learning facilities for students in the School of Law, Criminology and Policing and the Department of Psychology.
The three-storey building includes a 250-seat lecture theatre, seminar and tutorial rooms, and social learning areas which encourage a more informal and interactive style of learning.
Sociology modules are led by the Department of History, Geography and Social Sciences, based in the Geosciences building. The modern facilities combine with a friendly and supportive learning environment to ensure that your studies are a rich and rewarding experience.
The Geosciences building features a large lecture theatre, small group teaching rooms, IT facilities, smaller tutorial spaces and a large social area.
Where you'll study
Finance
Tuition fees
UK Part-Time
£77 per credit
for 360 credits
The UK tuition fee rate is subject to final Government approval for academic year 2023/24 entry. The University may administer a small inflationary rise in tuition fees, in line with Government policy, in subsequent academic years as you progress through the course.
EU/EEA and Swiss students who have settled or pre-settled status under the EU Settlement Scheme, as well as Irish nationals, may be eligible for the UK tuition fee rate.
Financial support
Subject to eligibility, UK students joining this course can apply for a Tuition Fee Loan from the Government to cover the full cost of tuition fees. UK students enrolling on the course may also be eligible to apply for additional funding to help with living costs.

Please view the relevant Money Matters guide for comprehensive information about the financial support available to eligible UK students.
EU/EEA and Swiss students who have settled or pre-settled status under the EU Settlement Scheme may be eligible to apply for financial support. Irish nationals can ordinarily apply to Student Universal Support Ireland (SUSI). If you are an EU student who does not have settled or pre-settled status, or are an international student from a non-EU country, please see our international student finance pages.
Your future career
Graduating with this Politics and Sociology dual-honours degree provides you with a huge range of career options in both politics, sociology spheres and beyond.
Typical careers for politics graduates include working as a parliamentary researcher or caseworker, local government officer or think tank researcher. Many politics graduates also pursue careers working in journalism, public relations, public affairs, the Civil Service, voluntary sector or teaching (further training required).
Sociology graduates find employment across a range of private, public and voluntary employment markets and careers, in sectors as diverse as social and health services, general administration and management, media and entertainment industries and the retail and leisure industries.
Alternatively, you may wish to progress onto postgraduate study.
Course changes
Every effort has been made to ensure the accuracy of this information, however our courses are subject to ongoing review and development. Changing circumstances may necessitate alteration to, or the cancellation of, courses.
Changes may be necessary to comply with the requirements of professional bodies, revisions to subject benchmarks statements, to keep courses updated and contemporary, or as a result of student feedback. We reserve the right to make variations if we consider such action to be necessary or in the best interests of students.
Track changes to this course
Download our course leaflet