Mentoring and Coaching
PGCert
Develop your skills in mentoring and coaching practice on a dedicated programme for teachers and education professionals where you will explore theory and practice across a range of professional contexts.
Overview
This Postgraduate Certificate in Mentoring and Coaching has been developed to address the needs of teachers and other professionals working in a range of educational contexts. Enhancing your mentoring and coaching practice, the programme will support you in developing skills in critical reflective practice and critical thinking while also encouraging you to explore and experience mutual ways of working through investigating and critiquing contemporary policy. You will develop a strong academic underpinning to your work and be able to tailor your studies to focus on areas of professional and/or personal interest. The programme responds to Government priorities associated with teacher retention and development, providing a professional route in mentoring and coaching for those who hold, or are seeking to hold, specialist roles in schools and colleges and other educational settings.
What you'll study
You will focus on the principles, theories and models of mentoring and coaching, receiving an introduction to what it means to develop critically reflective practice and how you can apply this knowledge and understanding to your own role and context.
Examining relevant policy guidelines, mentor standards and practice, you will establish the aims and objectives of mentoring and coaching, and consider ethics, confidentiality and barriers to effective mentoring and coaching relationships.
The programme also focuses on mentoring and coaching in professional practice, introducing you to the possibilities for growth through developing practitioner enquiry in mentoring and coaching. The aim is to enhance your understanding of how mentoring and coaching can improve performance and support individuals to develop themselves.
You will be guided in critically evaluating your own mentoring and coaching practice, as well as being encouraged to personalise, situate and contextualise your learning experiences through recording and reflecting on your development.
Mentoring and Coaching in Professional Practice
Principles, Theories and Models of Mentoring and Coaching
How you'll study
This course is delivered via blended learning, including an induction session, followed by taught Saturday conference sessions, at Edge Hill University.
Between the conference days, a formal schedule of online activities and discussions will take place, supported by personal tuition. You will be expected to dedicate approximately 8-10 hours per week to your studies.
How you'll be assessed
Assessment is through coursework focusing on a range of professional learning activities and projects. Opportunities for formative feedback will be scheduled throughout each module.
You will produce a 5,000 word critically reflective account which will evidence critical engagement with contemporary theories and models of mentoring and coaching. You will also present a critical evaluation of your own mentoring and coaching practice which will be accompanied by a portfolio of supporting evidence, such as extracts from reflective diaries, training plans, lesson observations and peer feedback.
Who will be teaching you
The programme team have first-hand experience of mentoring and coaching practice in educational settings and use their expertise to explore practice through critical reflection. All staff are research-active members of internal and external networks and regularly attend conferences to present their ongoing projects.
Entry criteria
Entry requirements
You should have a degree equivalent to UK first-class or second-class honours (2:2 or above) in a relevant subject. You should also be employed in, or have sustained and appropriate access to, an educational setting where you are able to undertake regular mentoring and/or coaching with colleagues.
How to apply
There is an online application process for this course.
Should you accept an offer of a place to study with us and formally enrol as a student, you will be subject to the provisions of the regulations, rules, codes, conditions and policies which apply to our students. These are available at www.edgehill.ac.uk/studentterms.
Did you know?
If you join a full time undergraduate degree at Edge Hill University, we will guarantee you the offer of a room in our halls of residence for the first year of your course.
Discover our accommodation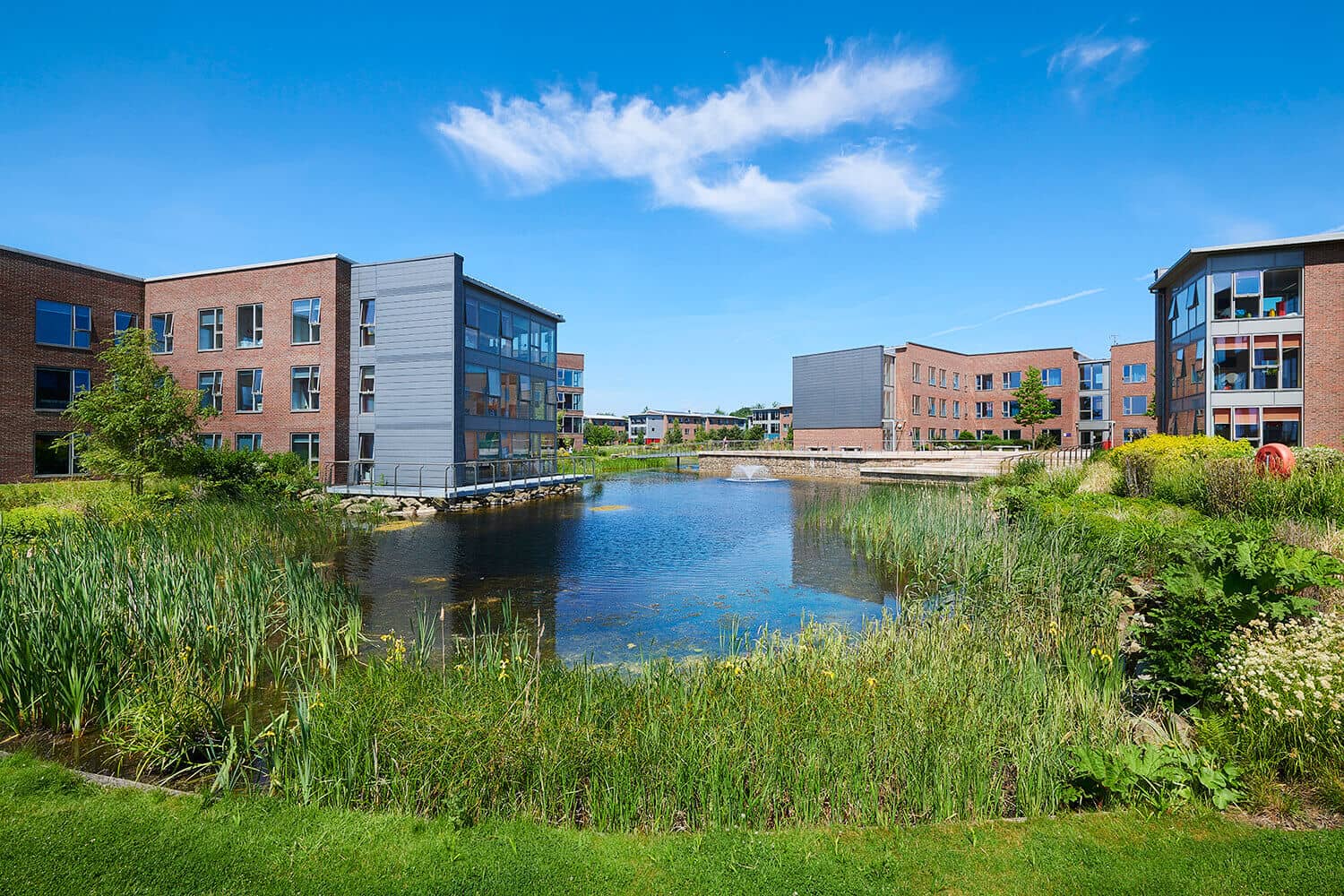 Facilities
Housed in a state-of-the-art £9million building, the Faculty of Education enjoys a stunning setting from both its lakeside and piazza buildings.
Facilities in the lakeside building include a 300-seat lecture theatre, five well-equipped ICT suites, and 18 teaching rooms complete with the latest technology. The lakeside building is also home to a popular vegan and vegetarian cafe where students can meet to socialise and discuss their studies.
The nearby piazza building offers modern facilities including a lecture theatre and a number of seminar rooms.
Where you'll study
Finance
Tuition fees
EU/EEA and Swiss students who have settled or pre-settled status under the EU Settlement Scheme, as well as Irish nationals, may be eligible for the UK tuition fee rate.
Financial support
Please view the relevant Money Matters guide for comprehensive information about the financial support available to eligible UK students joining postgraduate courses at Edge Hill University.
EU/EEA and Swiss students who have settled or pre-settled status under the EU Settlement Scheme may be eligible to apply for financial support. Irish nationals can ordinarily apply to Student Universal Support Ireland (SUSI). Please see our EU student finance page for further details.
Your future career
On successful completion of this programme, you will be equipped with the knowledge and skills to critically analyse and reflect on practices and theories of mentoring and coaching, including how the demands of the Early Career Framework can be met in your own setting.
You may already be in or aspiring to move into a leadership role such as head of department, subject leader or subject coordinator, head of year, advanced skills teacher, senior leader or headteacher, as well as a range of other roles with teaching and learning responsibilities. This programme will strengthen your ability to pursue such positions, as well as other specialist roles related to mentoring and coaching.
Course changes
Every effort has been made to ensure the accuracy of this information, however our courses are subject to ongoing review and development. Changing circumstances may necessitate alteration to, or the cancellation of, courses.
Changes may be necessary to comply with the requirements of professional bodies, revisions to subject benchmarks statements, to keep courses updated and contemporary, or as a result of student feedback. We reserve the right to make variations if we consider such action to be necessary or in the best interests of students.
Track changes to this course
Download our course leaflet