International Foundation Programme
Develop your English language ability in a tailored programme for international students that equips you with the academic and study skills you need to obtain a guaranteed place on an Edge Hill University degree.
Closed to applications for September 2023.
Overview
The International Foundation Programme has been specifically developed for international students who want to study for an undergraduate degree but do not possess British A-Level qualifications (Year 13) or equivalent or who need to improve their English language proficiency. You may have just finished, or be about to finish, your studies in high school and be looking for a programme that will provide you with the knowledge, skills and confidence needed for undergraduate study and develop your study skills. The programme offers two routes:
Route A is for those who need to improve their English language proficiency and includes more language development.
Route B is for those who have a higher level of English Language proficiency but need to improve their knowledge of their target discipline.
Course features
International students can apply
What you'll study
You will be introduced to the subject area you have chosen for your degree studies and will develop the academic and critical thinking skills required for success at this level. You will also advance your English language skills.
Critical Analysis and Systematic Thinking for Higher Education
Developing Academic Study Skills
English Grammar and Pronunciation
Additional compulsory modules on Route A:
Expand all
English for Specific Academic Purposes
Introduction to Subject/Discipline Studies
Additional compulsory modules on Route B:
Expand all
Introduction to Subject/Discipline Studies
Route B may also involve studying the following module in place of the English Grammar and Pronunciation module. Whether you study English Grammar and Pronunciation or Communicative Literacy in Higher Education will be determined by the needs of each student cohort.
Communicative Literacy in Higher Education
How you'll study
The programme is delivered by lectures, tutorials and small group seminars and you will also be expected to undertake private study.
How you'll be assessed
You will be assessed through assignments, coursework and examinations.
Who will be teaching you
The Language Centre is accredited with the British Council for the teaching of English in the UK, as well as BALEAP, the global forum for English for Academic Purposes (EAP) professionals. It has also been recognised as a centre of excellence by EL Gazette, a key English language teaching industry publication.
You will be taught by a team of tutors who understand the needs of international students and who are committed to supporting you at all times to make your studies both stimulating and enjoyable.
Entry criteria
Entry requirements
You must be at least 18 years of age at the start of this course and provide evidence of successful educational achievement in your country of origin (equivalent to a Year 12 Leaving Certificate).
English language requirements
Route A: International students require IELTS 5.0, with a score no lower than 4.0 in each individual component;
Route B: International students require IELTS 6.0, with a score no lower than 5.0 in each individual component.
If your current level of English is half a band, one band, or one-and-a-half bands lower, with no element lower than 4.0, you may want to consider our Pre-Sessional English course.
Students who are from a majority English speaking country may be exempt from the language requirements.
Please note, the UK Visas and Immigration (UKVI) regulations require you to complete a UKVI-approved Secure English Language Test (SELT) prior to entry.
How to apply
There is an online application process for this course.
Please choose the application form for your preferred intake date and mode of study.
Should you accept an offer of a place to study with us and formally enrol as a student, you will be subject to the provisions of the regulations, rules, codes, conditions and policies which apply to our students. These are available at www.edgehill.ac.uk/studentterms.
Did you know?
If you join a full time undergraduate degree at Edge Hill University, we will guarantee you the offer of a room in our halls of residence for the first year of your course.
Discover our accommodation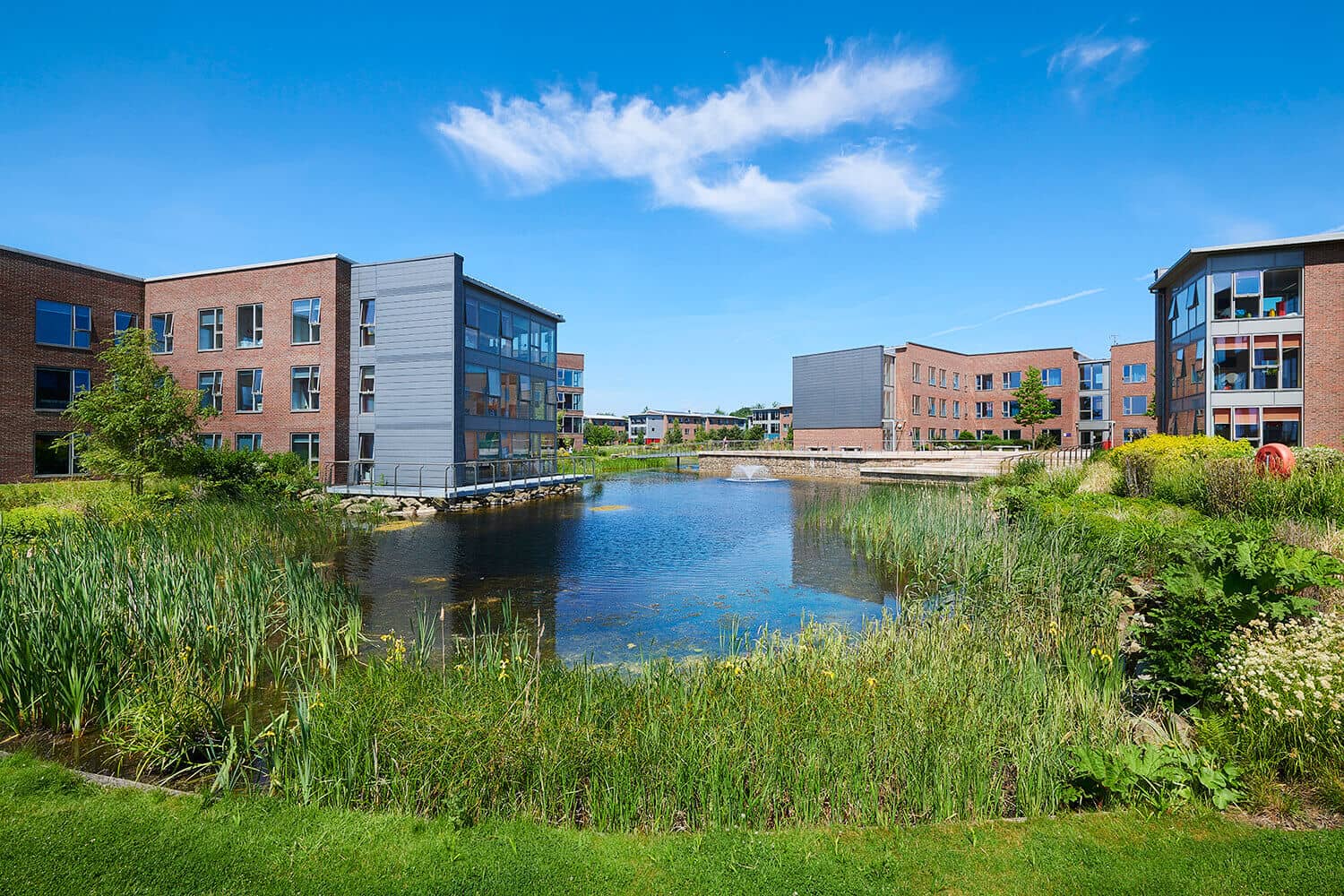 Facilities
The Language Centre is located in Creative Edge, a state-of-the-art £17million building offering highly contemporary suites of outstanding facilities.
Where you'll study
Your future career
Your English Language ability will be equivalent to at least IELTS 6.0 on successful completion of the programme, with no individual element below 5.5, which will allow you to progress to degree level study in the following subject areas:
accountancy
advertising
animation
business and management
education
English
health
law
media
psychology
Course changes
Every effort has been made to ensure the accuracy of this information, however our courses are subject to ongoing review and development. Changing circumstances may necessitate alteration to, or the cancellation of, courses.
Changes may be necessary to comply with the requirements of professional bodies, revisions to subject benchmarks statements, to keep courses updated and contemporary, or as a result of student feedback. We reserve the right to make variations if we consider such action to be necessary or in the best interests of students.
Track changes to this course
Download our course leaflet