Integrated Palliative & End of Life Care
PGCert
Join a programme for frontline healthcare staff which enables you to deliver palliative and end-of-life care for people with advanced, progressive and terminal illnesses, immersing you in an interactive virtual community of fictional patients.
Overview
This PGCert is designed to make palliative and end-of-life care real, meaningful and accessible for all frontline clinical staff. The programme is suitable for nurses (community, hospital, nursing home, hospice), health and social care practitioners, allied health professionals, paramedics and doctors (GPs, specialist doctors and doctors in training). You will gain enhanced knowledge, confidence and competence in assessing the palliative and end-of-life care needs of patients and their families. Individual disease groups will be analysed and the trajectory of dying assessed, looking for similarities and differences and seeing how these might be managed. In addition to this, you will learn how to manage symptoms and address concerns arising across the four domains of holistic care (physical, psychological, spiritual and social). Ethical and legal aspects of care will also be considered.
What you'll study
The course introduces you to the philosophy and principles of palliative care, assessment and symptom management.
You will study the trajectories of end-of-life care in a variety of diseases and conditions, examine holistic care from a physical, psychological, spiritual and social perspective, and gain skills and knowledge in both supporting family carers and providing bereavement support.
In addition to this, you will focus on the delivery of palliative care through enhanced communication skills, advance care planning and the management of complex medicines.
Transforming End of Life Trajectories
Transforming Integrated Palliative and End of Life Care
You will select a 20 credit optional module, negotiated with the course leader, chosen from the Faculty of Health, Social Care and Medicine's professional development portfolio. You may wish to consider the module Transforming End of Life Communication and Spiritual Care.
For more information about each module, including the dates and times of module sessions, please see our Continuing Professional Development Modules for Health and Social Care Practitioners pages.
Transforming End of Life Communication and Spiritual Care
How you'll study
The two core modules are delivered at the Terence Burgess Education Centre in Southport. Attendance is typically one half day per week with an additional full introductory day at the start of each module and a further full revision day at the end. The remaining module is delivered at Edge Hill University and contact hours will vary depending on your module choice.
Blended learning is encouraged as part of the learning time and includes a substantial amount of material available via our virtual learning environment.
As part of these online activities, you will be exposed to a variety of end-of-life care challenges faced by the residents of a fictional community of families. You will be expected to contribute to web-based discussions with your peers about the relevant care required by members of this virtual interactive community.
How you'll be assessed
Assessment methods vary according to the demands of each module and include written assignments, designing a teaching pack, Objective Structured Clinical Examinations (OSCEs), portfolios, seminar presentations and work-based learning projects.
Who will be teaching you
You will be taught by specialist palliative care and palliative medicine staff who have experience working in a specialist palliative care unit and across healthcare settings. The programme team's expertise will be supplemented by guest lecturers who have specialist interests in end of life care.
Entry criteria
Entry requirements
The normal minimum requirement is a degree equivalent to UK first-class or second-class honours (2:2 or above) in a health or social care related subject. Other subjects may be considered subject to a successful interview. You must be currently working in a health care setting.
If you have a minimum of five years' experience working within health and social care, you may be able to access the course without a degree, subject to a successful interview, if you are able to demonstrate evidence of relevant continuous professional development.
How to apply
There is an online application process for this course.
Please choose the application form for your preferred intake date and mode of study.
Should you accept an offer of a place to study with us and formally enrol as a student, you will be subject to the provisions of the regulations, rules, codes, conditions and policies which apply to our students. These are available at www.edgehill.ac.uk/studentterms.
Did you know?
If you join a full time undergraduate degree at Edge Hill University, we will guarantee you the offer of a room in our halls of residence for the first year of your course.
Discover our accommodation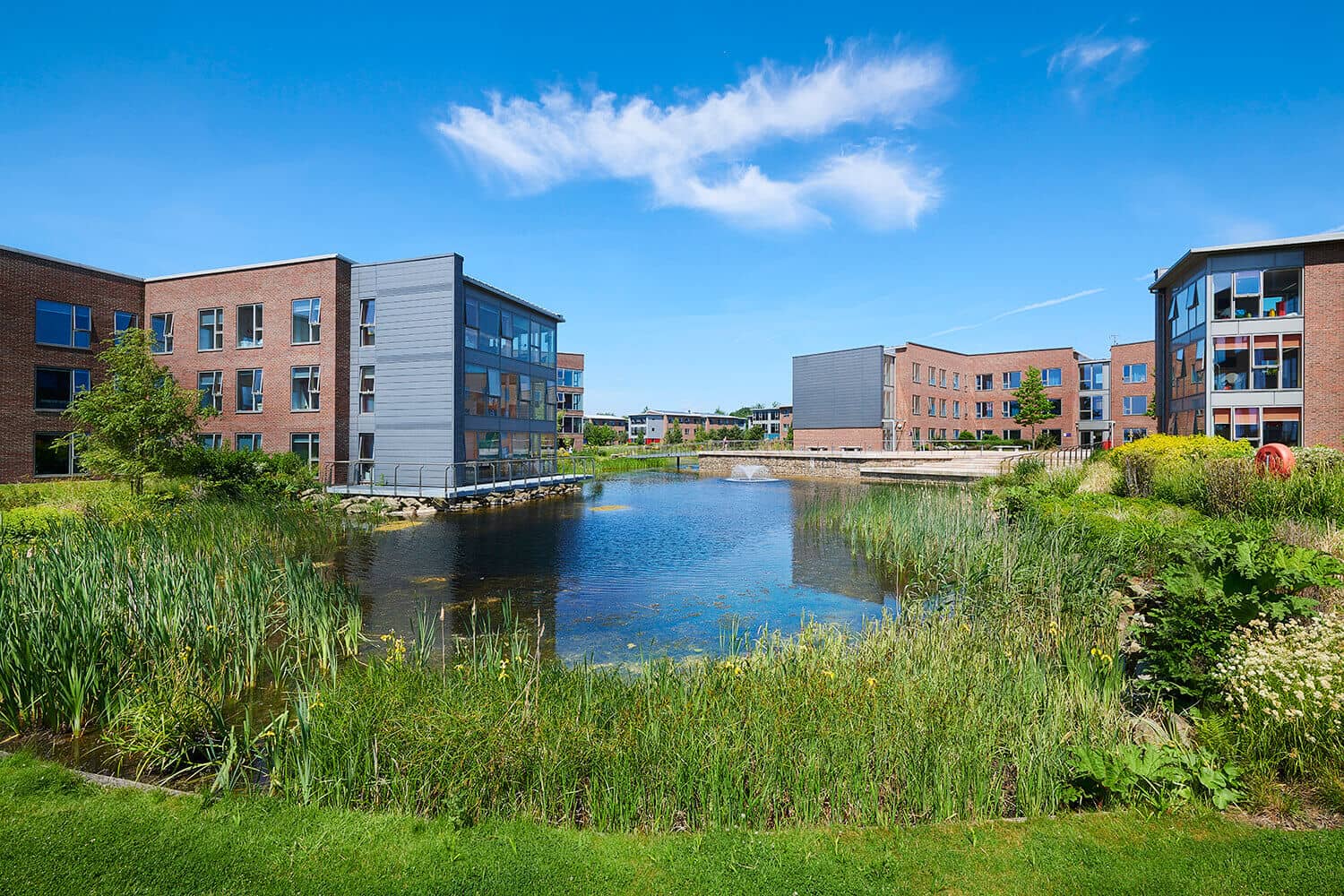 Facilities
Terence Burgess Education Centre, the location for the two core modules on the course, is a purpose-built teaching hub based at Queenscourt Hospice in Southport. It is equipped with audio-visual facilities and a small palliative care reference library. The library contains a variety of books, journals and videos relevant to palliative care.
The remaining module on the course will be delivered at Edge Hill University where the Faculty of Health, Social Care and Medicine offers some of the best facilities for the education and training of health and social care professionals in the country.
The outstanding teaching and learning resources include leading edge clinical skills facilities, an 860-seat lecture theatre, and a variety of teaching rooms and social learning spaces.
Where you'll study
Faculty of Health, Social Care and Medicine
Finance
Tuition fees
UK Part-Time
£780-£880 per 20-credit module
for 60 credits
Tuition fees of £880 per module will apply for modules Transforming End of Life Trajectories (HEA4219) and Transforming Integrated and Palliative End of Life Care (HEA4197) for students joining the course in academic year 2022/23.
Tuition fees for additional 20-credit modules selected from the faculty professional development portfolio will typically be £780 for academic year 2022/23 entry.
EU/EEA and Swiss students who have settled or pre-settled status under the EU Settlement Scheme, as well as Irish nationals, may be eligible for the UK tuition fee rate.
Financial support
Please view the relevant Money Matters guide for comprehensive information about the financial support available to eligible UK students joining postgraduate courses at Edge Hill University.
EU/EEA and Swiss students who have settled or pre-settled status under the EU Settlement Scheme may be eligible to apply for financial support. Irish nationals should ordinarily apply to Student Universal Support Ireland (SUSI). Please see www.edgehill.ac.uk/eufinance for further details.
Your future career
Upon successful completion of the programme, you will have the skills and knowledge required to provide effective support to patients, their families and other health professionals in managing end-of-life care.
The course is designed to enhance your employability through developing your critical care skills and leadership qualities and encouraging you to explore new ways of working within health and social settings.
You will also be expected to demonstrate knowledge across disciplines, being both attuned to cultural diversity and aware of your professional responsibilities and limitations.
Course changes
Every effort has been made to ensure the accuracy of this information, however our courses are subject to ongoing review and development. Changing circumstances may necessitate alteration to, or the cancellation of, courses.
Changes may be necessary to comply with the requirements of professional bodies, revisions to subject benchmarks statements, to keep courses updated and contemporary, or as a result of student feedback. We reserve the right to make variations if we consider such action to be necessary or in the best interests of students.
Track changes to this course
Download our course leaflet