English Literature and History
BA (Hons)
UCAS code: QV3D
Calling lovers of literature and those passionate about exploring the past. Delve into 500 years of literature to unravel themes and discover a range of periods, topics and genres. Explore modern history and important events from across the globe.
Closed to international applications for September 2023.
Overview
On this combined honours degree, you'll learn about English literature and modern history. Discover fascinating classic works, authors and genres and study the impact literature has on society, as well as how this has changed over time. You can also study topics such as contemporary French history, the crusades and British rule in Palestine.
From the very start of this English literature and history degree you'll be able to shape your studies, with the opportunity to select modules that interest you most.
In history, you'll explore the past and how it can change culture. You could develop your knowledge of medieval times and their influences on society today, or dissect history on screen by exploring the ways British, American and German cinemas represented pre-war history.
In literature, we'll look at life beyond the page. You can learn how the influence of literature developed from the Bible to contemporary works, or critically analyse textual representations of sexuality.
Preparing you for life after university is key too. You'll gain insight into the creative industries and become confident applying the theories you learn.
Course features
International students can apply

Learn a language option available

Sandwich year option available

Studying abroad option available
What you'll study
We'll introduce you to the methods of critical and theoretical approaches to reading literature. Focusing on works from the past 500 years you'll see the differences between reading for understanding and interpretation. Studying history, you could become a time detective, learning the tools and methods of historical researchers. You could also explore the political, economic and social influences of European society between 1789 and 1919 and its significance on world history.
History and Society: Theory, Practice and Impact
Imperialism, Liberation, Globalisation
You could choose to study British children's literature from the 18th century to today, or trace the complex historical, social and political contexts of contemporary American literature. In our graphic novel module, you'll hone your skills, producing a mock script for a proposed text and receive a talk by a visiting graphic novelist. Shape your history studies by delving into migration and mobility in European history, or the foreign policy of the US since 1939.
Contemporary American Literature
Literature Dissertation Project
Pilgrim's Progress: British Children's Literature from the 18th Century to the Present Day
Communism in Eastern and Central Europe After 1945
Global Revolution: The Postcolonial World Order, 1896-1957
Introduction to Contemporary French History: From the 1930s to the Present
Islamisms: Religion, Politics and Colonialism from World War I to ISIS
Migration and Mobility in Contemporary European History
Mission and Manifest Destiny: U.S. Foreign Policy and Expansionism 1840-1939
Rise to Globalism: U.S. Foreign Policy Since 1939
The World of the Crusades
Urbanisation, Immigration and Economic Crisis: The United States 1880-1941
You will further enhance your historical and literary skills and specialise in areas you're enthusiastic about. You can explore contemporary English literature, or engage with a workplace by taking part in a group project. In history, you can explore the challenges faced by society based on history from across the globe, including conflict in the holy land and the special relationship between Britain and the USA.
A Century of Crime and Its Contexts: Circa 1840-1940
Black Life and Black Protest in the United States 1895-1945
Black Life and Black Protest in the United States Since 1945
British Rule in Palestine
History: Interpretations and Context
Seeds of Conflict in the Holy Land 1840-1923
The Special Relationship: Britain and the USA
Optional modules provide an element of choice within the course curriculum. The availability of optional modules may vary from year to year and will be subject to minimum student numbers being achieved. This means that the availability of specific optional modules cannot be guaranteed. Optional module selection may also be affected by timetabling requirements. Some restrictions on optional module choice or combinations of optional modules may apply.
How you'll study
Teaching and learning includes lectures and seminars, workshops, group activities, independent research and our online Virtual Learning Environment (VLE).
Modules have carefully designed to ensure that you develop your confidence, knowledge and skills in a gradual way and in a highly supportive environment, with easy access to tutors outside the classroom. We see our relationship with you as one in which we work together to help you succeed.
You will be able to read newspapers and journals online from the eighteenth to the twenty-first centuries, as well as consulting the latest journals.
How you'll be assessed
Assessment involves a mixture of coursework and examinations with emphasis placed on work produced in your own time or formally presented in class. Typically, you can expect to be assessed on essays, reports, close readings, critical analyses, oral presentations and group work.
Who will be teaching you
We have a dedicated and enthusiastic team of highly experienced, enthusiastic English Literature and History tutors also contribute to Masters courses and the supervision of research students. Our staff are active in research at the cutting edge of a range of topics, publishing books and articles on a regular basis.
Several English Literature tutors have been successful in winning national research awards from bodies such as the British Academy, the Arts and Humanities Research Council and The Leverhulme Trust. In the 2008 Research Assessment Exercise, 30% of the History team's published research was judged to be either 'world-leading' or 'internationally-excellent'.
Entry criteria
Entry requirements
Typical offer 112-120 UCAS Tariff points. No specific subjects are required.
Example offers
| Qualification | Requirement |
| --- | --- |
| A Level | BBC-BBB. |
| BTEC Extended Diploma (or combination of BTEC QCF qualifications) | Distinction, Merit, Merit (DMM). |
| T Level | Overall grade of Merit. |
| International Baccalaureate (IB) | We are happy to accept IB qualifications which achieve the required number of UCAS Tariff points. Subject-specific requirements at Higher Level (HL) Grade 5 may apply. |
| Access to Higher Education Diploma | 45 credits at Level 3, for example 15 credits at Distinction and 30 credits at Merit or 24 credits at Distinction and 21 credits at Merit. The required total can be attained from various credit combinations. |
Please note, the above examples may differ from actual offers made. A combination of A Level and BTEC awards may also be accepted.
If you have a minimum of two A Levels (or equivalent), there is no maximum number of qualifications that we will accept UCAS points from. This includes additional qualifications such as Extended Project Qualification (EPQ), AS Levels that haven't been continued to A Level, and General Studies AS or A Level awards.
English language requirements
International students require IELTS 6.0, with a score no lower than 5.5 in each individual component, or an equivalent English language qualification.
If your current level of English is half a band, one band, or one-and-a-half bands lower, either overall or in one or two elements, you may want to consider our Pre-Sessional English course.
How to apply
Should you accept an offer of a place to study with us and formally enrol as a student, you will be subject to the provisions of the regulations, rules, codes, conditions and policies which apply to our students. These are available at www.edgehill.ac.uk/studentterms.
Did you know?
If you join a full time undergraduate degree at Edge Hill University, we will guarantee you the offer of a room in our halls of residence for the first year of your course.
Discover our accommodation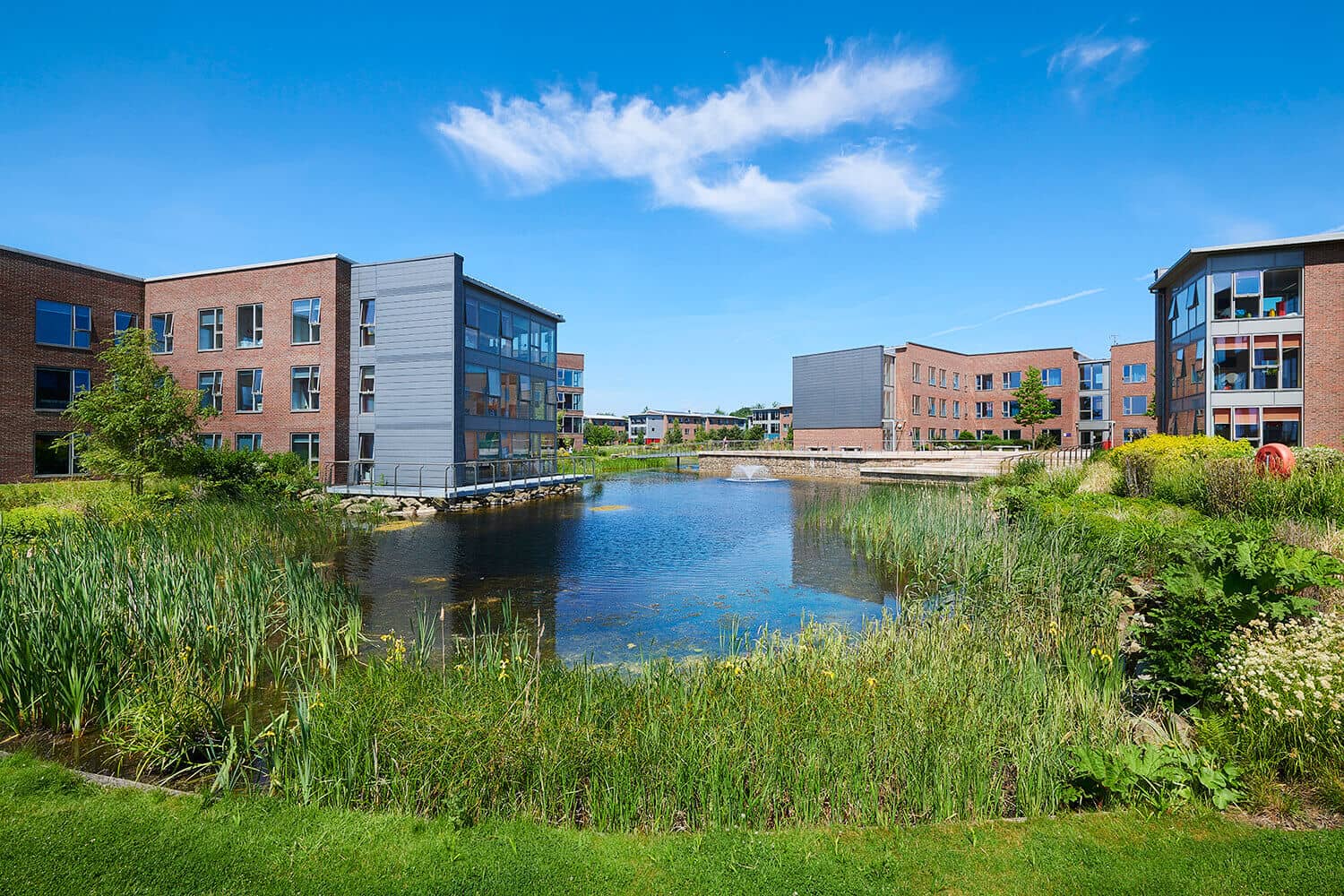 Facilities
The Department of English and Creative Arts is based in Creative Edge, a state-of-the-art £17million building offering highly contemporary facilities.
The £17 million Creative Edge building features a lecture theatre, seminar rooms, IT facilities and smaller tutorial spaces. It has everything you need to become a capable, versatile, creative writer and thinker. Creative Edge's social learning spaces are ideal for passionate discussion with like-minded creatives.
You'll develop the practical skills, analytical tools and confidence for wherever your creative flair and insight takes you.
History modules are led by the Department of History, Geography and Social Sciences, based in the Geosciences building. The modern facilities combine with a friendly and supportive learning environment to ensure that your studies are a rich and rewarding experience.
The Geosciences building features a large lecture theatre, small group teaching rooms, IT facilities, smaller tutorial spaces and a large social area.
Where you'll study
Finance
Tuition fees
UK Part-Time
£77 per credit
for 360 credits
The UK tuition fee rate is subject to final Government approval for academic year 2023/24 entry. The University may administer a small inflationary rise in tuition fees, in line with Government policy, in subsequent academic years as you progress through the course.
EU/EEA and Swiss students who have settled or pre-settled status under the EU Settlement Scheme, as well as Irish nationals, may be eligible for the UK tuition fee rate.
Financial support
Subject to eligibility, UK students joining this course can apply for a Tuition Fee Loan from the Government to cover the full cost of tuition fees. UK students enrolling on the course may also be eligible to apply for additional funding to help with living costs.

Please view the relevant Money Matters guide for comprehensive information about the financial support available to eligible UK students.
EU/EEA and Swiss students who have settled or pre-settled status under the EU Settlement Scheme may be eligible to apply for financial support. Irish nationals can ordinarily apply to Student Universal Support Ireland (SUSI). If you are an EU student who does not have settled or pre-settled status, or are an international student from a non-EU country, please see our international student finance pages.
Your future career
Our BA (Hons) English Literature and History degree prepares you for many different roles. When you graduate, you will have learned to think critically about texts and historical events.
Your research and communication abilities will help you find a role in:
Teaching (further training required)
Speech therapy (further training required)
Library work
Museums
Media
Politics
Journalism
Arts administration
Publishing
Further study or research
Other career options for our graduates span industries and sectors such as:
The civil service
Business
Local government
Law and information management
Upon completion of this degree, you will have developed your communication skills and become a refined critical thinker. You will be well place for a diverse range of careers and industries.
Course changes
Every effort has been made to ensure the accuracy of this information, however our courses are subject to ongoing review and development. Changing circumstances may necessitate alteration to, or the cancellation of, courses.
Changes may be necessary to comply with the requirements of professional bodies, revisions to subject benchmarks statements, to keep courses updated and contemporary, or as a result of student feedback. We reserve the right to make variations if we consider such action to be necessary or in the best interests of students.
Track changes to this course
Discover Uni: Full-Time Study
Discover Uni: Part-Time Study
Download our course leaflet