Education and Special Educational Needs
BA (Hons)
UCAS code: X420
Develop empathy and respect for difference on a degree underpinned by opportunities to participate in work-related learning in a range of settings, including special schools and alternative provision, and work with disability organisations.
Overview
Drawing on a range of disciplines including education, psychology, sociology and philosophy, this degree asks vital questions and proposes robust answers about how we understand special educational needs and disability. Whether you are aiming for a career, or are already employed, working with those with special educational needs or disabilities, this course will require you to think critically about the use of labels and categories and develop your own personal stance concerning big questions relating to education, special educational needs and disability. Throughout the degree you will be supported to challenge existing approaches within mainstream psychology, from assessment, identification and diagnosis, to labelling and interventions. You will explore the role of schools in supporting pupils with special educational needs, and analyse the historical and current contexts that influence special educational needs. Work-related learning is offered at every level of study, with work-based learning opportunities provided in a variety of settings. Adopting a strengths-based approach, you will be empowered and encouraged to shape your own attitude to disability and recognise it as a positive, defining aspect of a person's identity, a 'difference' rather than a 'disability'.
Course features
International students can apply

Work placement opportunity
What you'll study
In Year 1 you will learn about historical perspectives on disability, including how disabled people were treated in the past. You will gain an insight into changing attitudes to disability and the impact of the disabled activist movement which started in the late 1970s and early 1980s. Examining the theoretical frameworks which aid understanding of disability, you will explore the role of education and society in the empowerment of disabled people. You will also gain foundational knowledge relating to mental health. Your learning will be underpinned by the development of critical reading and writing skills to help you engage in key debates about disability and special educational needs.
Including and Supporting Children with Specific Learning Needs – Professional Practice 1
Introduction to Education Studies
Conceptions of Education: The UK Education System in Context
Learning in a Diverse Society
Special Needs Through Time: Historical Perspectives
The Foundations of Mental Health
In Year 2 you will study the protections of the Equality Act 2010 and the Special Educational Needs Code of Practice 2015. You will learn about broader aspects of inclusion and the implications for inclusive education in schools for addressing the needs of specific groups and individuals. You might choose to develop a more in-depth understanding of mental health, building on your knowledge from Year 1. A firm grounding in the research process will introduce you to methods of research and guide you in developing a research proposal for your third-year dissertation.
Designing and Managing a Research Project
Including and Supporting Children with Specific Learning Needs – Professional Practice 2
Inclusion and Special Educational Needs: Current Perspectives
Agency, Power and Change in Education
Education, Meaning and Understanding: Debates in the Philosophy of Education
How and Why We Learn: Explorations in the Psychology of Education
UK Education in its Global Contexts
Understanding Mental Health Needs
Year 3 immerses you in the leadership of inclusion and special educational needs in educational settings. You will design and carry out a research project which will allow you to develop expertise in a specific area of interest. Work-related learning opportunities are embedded throughout the degree.
Including and Supporting Children with Specific Learning Needs – Professional Practice 3
Inclusion and Special Educational Needs: Looking to the Future
Current Debates in the Psychology of Education
Exploring Issues and Affecting Change in Education
Knowledge, Learning and Understanding
Understanding Education through Sociological Perspectives
Optional modules provide an element of choice within the course curriculum. The availability of optional modules may vary from year to year and will be subject to minimum student numbers being achieved. This means that the availability of specific optional modules cannot be guaranteed. Optional module selection may also be affected by timetabling requirements. Some restrictions on optional module choice or combinations of optional modules may apply.
How you'll study
The course is delivered in a variety of ways, including lectures, seminars and tutorials. You will be taught and guided by experienced staff who will get to know you, both as an individual and as part of a group, so that you can acquire the skills and experience you need to move successfully into the world of employment. You will also have opportunities to take part in visits to a wide range of settings, including special schools and alternative provision, and work with a variety of disability organisations.
Some modules may be taught in school or community contexts so that you can apply theory to practice immediately. You will have opportunities to undertake work-related and work-based learning in special schools, pupil referral units and mainstream schools. This will help you to develop empathy and respect for difference, as well as give you the knowledge, skills and experience to make a positive impact on the lives of others. There will be further opportunities to gain additional first-hand experience of supporting those with special educational needs and disabilities through working with disability charities and other relevant organisations in the voluntary sector.
Full-time study will typically involve face-to-face study for two or three days per week.
How you'll be assessed
Assessment will be through coursework. A variety of modes of assessment will be used including essays, presentations, blogs and digital diaries. These assessments are carefully designed to enable you to demonstrate the skills that you need in graduate level employment.
There are no formal written examinations as part of the current assessment methods on this degree.
Who will be teaching you
You will be taught by a team of lecturers who bring with them a vast amount of academic experience in inclusion and disability studies. Key areas of staff research expertise include mental health, autism, dyslexia, the intersections between family origin, ethnicity and disability, the experiences of special educational needs coordinators in schools, and LGBTQ+ and disability. Professionals from the special educational needs and disability sectors will also contribute to teaching and co-deliver some modules. This approach enables you to gain first-hand insights and provides rich opportunities to meet and work with people employed in special educational needs and supporting those with disabilities.
A working advisory group of head teachers, local authority personnel and colleagues in the voluntary sector will support curriculum design and course content.
Entry criteria
Entry requirements
Typical offer 104-112 UCAS Tariff points. No specific subjects are required.
If you accept a formal offer from Edge Hill University you will be required to apply for a Disclosure and Barring Service (DBS) Enhanced Disclosure indicating that you meet the mandatory criteria of 'Clearance to Work with Children and/or Vulnerable Adults'. Further information will be sent to you after you have firmly accepted an offer.
Example offers
| Qualification | Requirement |
| --- | --- |
| A Level | BCC-BBC. |
| BTEC Extended Diploma (or combination of BTEC QCF qualifications) | Distinction, Merit, Merit (DMM). |
| T Level | Overall grade of Merit. |
| International Baccalaureate (IB) | We are happy to accept IB qualifications which achieve the required number of UCAS Tariff points. |
| Access to Higher Education Diploma | 45 credits at Level 3, for example 9 credits at Distinction and 36 credits at Merit or 15 credits at Distinction and 30 credits at Merit. The required total can be attained from various credit combinations. |
Please note, the above examples may differ from actual offers made. A combination of A Level and BTEC awards may also be accepted.
If you have a minimum of two A Levels (or equivalent), there is no maximum number of qualifications that we will accept UCAS points from. This includes additional qualifications such as Extended Project Qualification (EPQ), AS Levels that haven't been continued to A Level, and General Studies AS or A Level awards.
English language requirements
International students require IELTS 6.0, with a score no lower than 5.5 in each individual component, or an equivalent English language qualification.
If your current level of English is half a band, one band, or one-and-a-half bands lower, either overall or in one or two elements, you may want to consider our Pre-Sessional English course.
How to apply
Closed to international applications for September 2023.
Should you accept an offer of a place to study with us and formally enrol as a student, you will be subject to the provisions of the regulations, rules, codes, conditions and policies which apply to our students. These are available at www.edgehill.ac.uk/studentterms.
Did you know?
If you join a full time undergraduate degree at Edge Hill University, we will guarantee you the offer of a room in our halls of residence for the first year of your course.
Discover our accommodation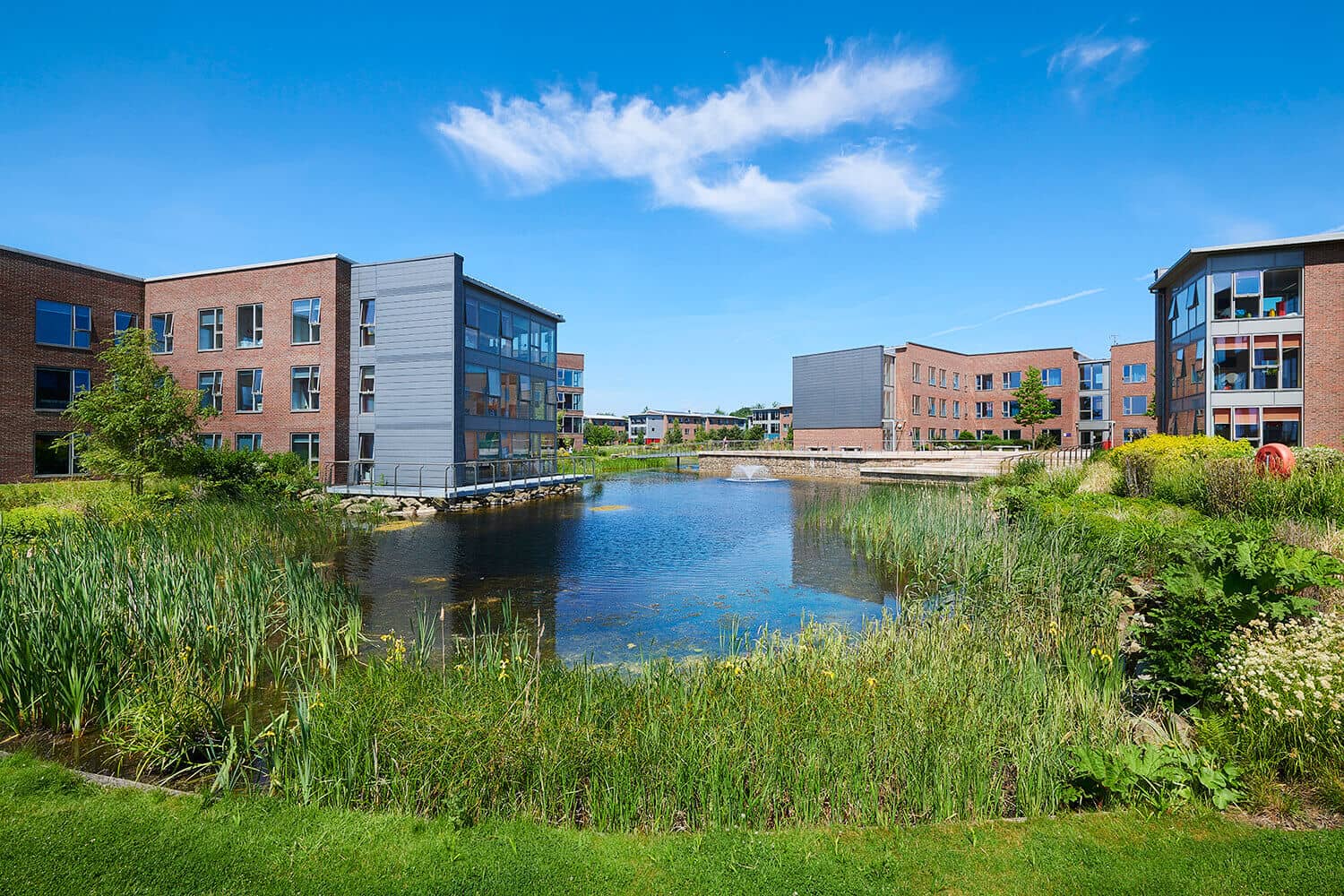 Facilities
Housed in a state-of-the-art £9million building, the Faculty of Education enjoys a stunning setting from both its lakeside and piazza buildings.
Facilities in the lakeside building include a 300-seat lecture theatre, five well-equipped ICT suites, and 18 teaching rooms complete with the latest technology. The lakeside building is also home to a popular vegan and vegetarian cafe where students can meet to socialise and discuss their studies.
The nearby piazza building offers modern facilities including a lecture theatre and a number of seminar rooms.
Where you'll study
Finance
Tuition fees
The UK tuition fee rate is subject to final Government approval for academic year 2023/24 entry. The University may administer a small inflationary rise in tuition fees, in line with Government policy, in subsequent academic years as you progress through the course.
EU/EEA and Swiss students who have settled or pre-settled status under the EU Settlement Scheme, as well as Irish nationals, may be eligible for the UK tuition fee rate.
Financial support
Subject to eligibility, UK students joining this course can apply for a Tuition Fee Loan from the Government to cover the full cost of tuition fees. UK students enrolling on the course may also be eligible to apply for additional funding to help with living costs.

Please view the relevant Money Matters guide for comprehensive information about the financial support available to eligible UK students.
EU/EEA and Swiss students who have settled or pre-settled status under the EU Settlement Scheme may be eligible to apply for financial support. Irish nationals can ordinarily apply to Student Universal Support Ireland (SUSI). If you are an EU student who does not have settled or pre-settled status, or are an international student from a non-EU country, please see our international student finance pages.
Your future career
This degree prepares graduates for a range of careers across both mainstream education as well as the special educational needs and disability sectors. The course is also ideal in preparing you to undertake postgraduate teacher training, whatever your chosen age phase. Alternatively, you may wish to pursue postgraduate taught study in fields such as educational research, psychology, mental health and counselling.
Typical career paths include:
working as a learning mentor
education administrator
museum/gallery/heritage site educator
educational psychologist
education counsellor
social/community worker
prison educator
international development worker
training organiser
charity worker
speech therapist
roles in publishing
Other suitable roles to pursue after graduation include:
assistant educational psychologist or learning mentor
working in schools or other educational settings
working as an assistant special educational needs and disabilities case worker
special educational needs and disabilities case officer
family liaison officer in local authorities
Additional options include graduate-level roles with relevant charities or graduate teaching assistant jobs.
The course is highly suitable if you are looking to progress onto a PGCE, particularly if you wish to teach in special educational needs schools or settings. You can also train to be an education mental health practitioner and learn how to deliver low intensity interventions to support children and young people experiencing common mental health problems. Additional further study options are available at postgraduate level, with Edge Hill University offering a range of taught Master's degrees and research degrees.
Work-related learning throughout the degree will prepare you for future employment by exploring the graduate level opportunities that are available across the special educational needs and disabilities sectors. This will help you to make an informed choice about your potential career options. Personal tutor sessions will focus on reviewing your progress towards graduate level employment, with leadership skills built into every module so that you feel confident leading teams, working in groups and managing projects. Dedicated employability sessions in each year of study will guide you in writing a CV, producing a professional LinkedIn profile, and compiling an electronic portfolio that evidences your graduate skills.
Course changes
Every effort has been made to ensure the accuracy of this information, however our courses are subject to ongoing review and development. Changing circumstances may necessitate alteration to, or the cancellation of, courses.
Changes may be necessary to comply with the requirements of professional bodies, revisions to subject benchmarks statements, to keep courses updated and contemporary, or as a result of student feedback. We reserve the right to make variations if we consider such action to be necessary or in the best interests of students.
Track changes to this course
Download our course leaflet