Digital Arts
MA
Develop practical and conceptual knowledge in digital media, alongside audovisual and interactive approaches to creative practice, while building a portfolio and a network of contacts for a career as an independent artist and creative practitioner.
Overview
Whether you're a musician, sound designer, animator, performer, artist or designer, developing expertise in digital media, as well as audiovisual and interactive approaches to creative practice, will enable you to forge an interdisciplinary path for your future career. Exploring connections between music and visual arts, this course provides the opportunity to build practical and conceptual knowledge, as well as confidence, with the contemporary creative computing technologies that facilitate interactivity and performance. You'll develop skills and knowledge in interactive and digital contexts, from web and mobile media to animations, installations and interactive performances, as well as cross-disciplinary mixed/inter/multi-media artworks. Sustainability is a key theme of the course, with opportunities to explore areas such as networking and streaming for remote performance and interaction, and audiovisual environmental artworks and installations. You'll create a portfolio of work representative of your best creative practice, while building a cross-disciplinary network of contacts to help forge your future career as an independent artist and creative practitioner. The transferable skills you develop, including those of computer programming, will ensure you graduate as highly employable in a variety of fields.
What you'll study
Across three semesters, you'll undertake five modules which will focus on developing the essential creative, technical, intellectual and communication skills required of professional creative practitioners.
In the first semester you'll develop foundational skills and knowledge of multimedia creative coding. You'll also pursue your own creative style and vision through the completion of an audiovisual production. This will be structured around professional practice and responding to a brief.
You'll enhance your research and professional communication skills in the second semester, enabling you to achieve the level required to discuss, interrogate and describe your creative practice in a culturally and intellectually informed way. You'll also deepen and expand your practice through the creative exploration and application of a range of interactive techniques, such as computer vision, sensors and physical computing.
You'll work intensively on the completion of a creative research project in the third semester, with university resources, staff support and guidance. You'll be tasked with producing an ambitious creative portfolio that demonstrates your creative vision, practical knowledge and professional skillset.
Creativity and Technology in Context
Foundations of Creative Computing
Practitioner Research Project
How you'll study
The course is delivered using a model that provides the best of both face-to-face teaching and the flexibility of online learning. Each module combines in-person teaching with online study and independent creative tasks. This model ensures contact, guidance and support, while providing the flexibility that allows study to be combined with personal commitments.
In-person teaching, or other contact time, is expected to take place on a single day each week, with online learning, support and independent study spread across the rest of the week in a flexible way.
How you'll be assessed
You will be assessed primarily through practical projects, with supporting written work and oral presentations that develop your communication skills. Where a practical submission is the primary component of assessment, an accompanying written submission or presentation would ordinarily be expected.
A range of performance exhibition spaces are available in the Creative Edge building and the Arts Centre, to present both work in progress and final projects.
There are no formal written examinations as part of the current assessment methods on this taught Masters degree.
Who will be teaching you
The course is delivered by staff with extensive experience of professional practice and research in the arts. The course team are experts in digital animation, creative computing, electronic music and interaction design. Staff have published in leading academic journals, exhibited work internationally and worked with a range of local, national and international arts organisations.
Entry criteria
Entry requirements
You should have a degree equivalent to UK first-class or second-class honours (2:2 or above) in a relevant subject such as music, animation, fine art, or performance.
You should submit a portfolio of work that showcases your creative practice to support your application.
English language requirements
International students require IELTS 6.5, with a score no lower than 6.0 in each individual component, or an equivalent English language qualification.
If your current level of English is half a band or one band lower, either overall or in one or two elements, you may want to consider our Pre-Sessional English course.
How to apply
This is a new course currently in development. Online applications will open once the validation process is complete.
Should you accept an offer of a place to study with us and formally enrol as a student, you will be subject to the provisions of the regulations, rules, codes, conditions and policies which apply to our students. These are available at www.edgehill.ac.uk/studentterms.
Did you know?
If you join a full time undergraduate degree at Edge Hill University, we will guarantee you the offer of a room in our halls of residence for the first year of your course.
Discover our accommodation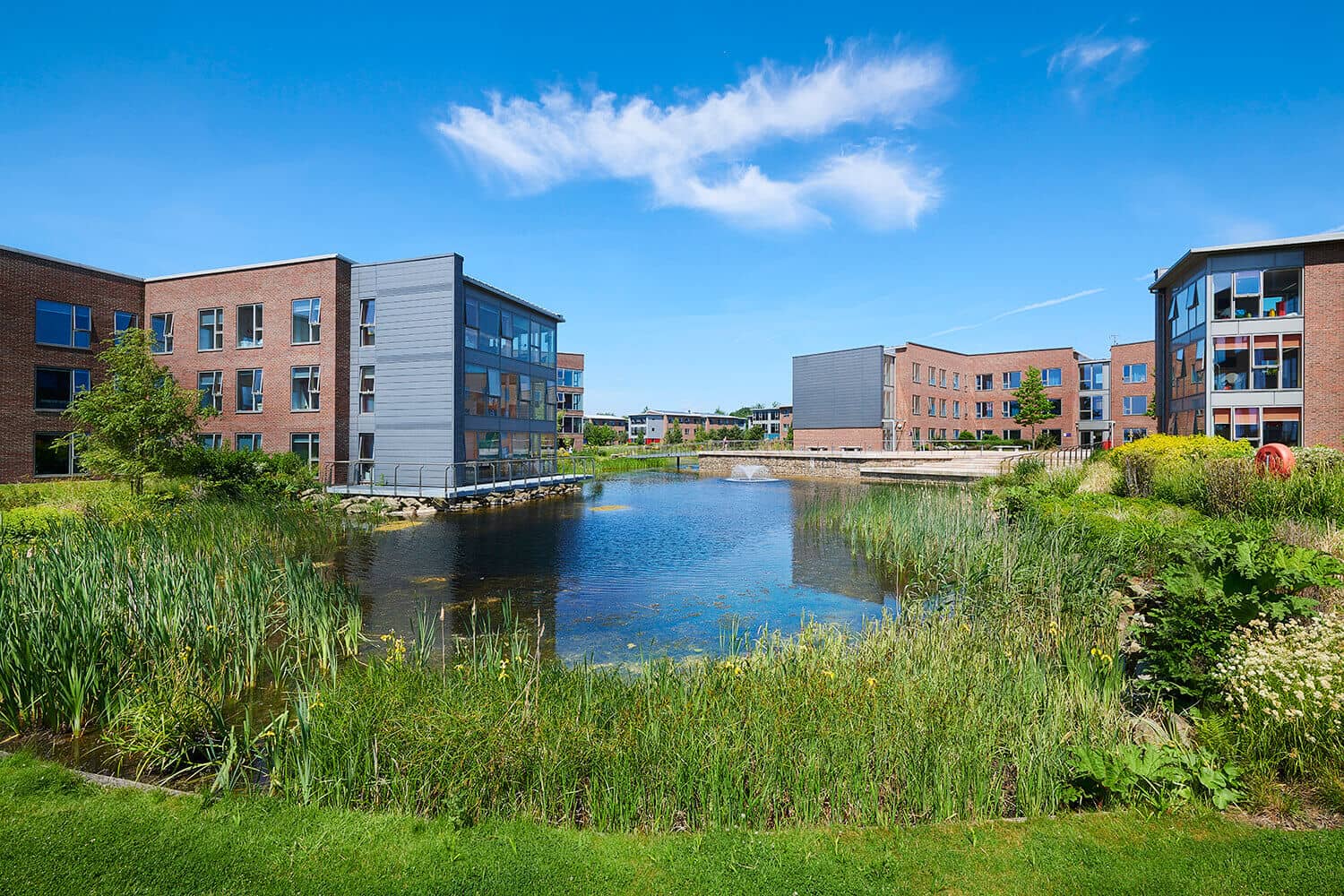 Facilities
Digital Arts students are based in Creative Edge, a state-of-the-art £17million building offering highly contemporary suites of outstanding facilities for the Department of Creative Arts.
Key features include TV studios with broadcast capacity and full production capabilities, recording studios, sound-editing suites, animation studios, a photographic studio, radio studio and multimedia laboratory. Our innovative resources are designed to ensure you gain practical experience to a professional standard. Dedicated support in the use of all creative media facilities is available through our Media Development Team.
Where you'll study
Learning resources
Music production and audio post-production studios come equipped with AVID ProTools HDX digital recording systems with C|24 control surfaces, as well as Waves and IK Multimedia, and a range of microphones. Dedicated Mac labs provide access to the latest audio software while there are are several dedicated rehearsal rooms which offer electronic keyboards and a range of acoustic and electric guitars, effects modules and practice amps. A selection of acoustic pianos, grand and upright, are also available.
Practical animation work is supported by four dedicated animation studios equipped with 24″ HD Cintiq Wacom Touch monitors, Rostrum camera stations, Rotational light-boxes, 3D Printer and industry standard software: Adobe Creative Suite (including Photoshop, After Effects, Illustrator, Flash), Toon Boom Storyboard Pro, Harmony Premium, Autodesk Maya, Cinema 4D, ZBrush and VRay. Mac studio facilities provide access to the latest editing and audio software (AVID ProTools 11, Apple Logic X, Propellerhead Reason 7, Adobe SoundBooth CE, Native Instruments Komplete Ultimate, and Sibelius).
The stop-motion studio is designed to professional standards, utilising Canon EOS 700D/850D with 18-135mm IS Lens, Dragon Frame, Dedo lighting and motion control camera movement technologies. For Foley-FX work and voiceover production, you will utilise our audio post-production studios which come equipped with AVID ProTools HDX digital recording systems with C|24 control surfaces, as well as Waves and IK Multimedia, and a range of microphones. There are also several dedicated rehearsal rooms which provide electronic keyboards and a range of acoustic and electric guitars, effects modules and practice amps.
Finance
Tuition fees
Tuition fees for students joining this course in academic year 2023/24 are still to be announced. We will update this information as soon as it is available.
EU/EEA and Swiss students who have settled or pre-settled status under the EU Settlement Scheme, as well as Irish nationals, may be eligible for the UK tuition fee rate.
Financial support
Financial support arrangements for eligible UK students joining this course in academic year 2023/24 are still to be announced by the Government. You are advised to check this page regularly and once the position has been confirmed we will update this information.
EU/EEA and Swiss students who have settled or pre-settled status under the EU Settlement Scheme may be eligible to apply for financial support. Irish nationals should ordinarily apply to Student Universal Support Ireland (SUSI). If you are an EU student who does not have settled or pre-settled status, or are an international student from a non-EU country, please see our international student finance pages.
Your future career
On graduation you'll be well placed to embark upon a career as an independent artist and creative practitioner, able to draw upon an extensive range of newly acquired knowledge, skills and understanding, as well as a network of individuals established through involvement in interdisciplinary collaborative partnerships.
The transferability of the skills you'll hold means you'll also be able to seek employment opportunities in other areas where creative content and practice, digital media production and computer programming are in demand. These include education, design, event production and management.
Download our course leaflet