Creative Writing
MA
Hone your writing technique. Find your unique literary voice. Joining us, you'll learn to read as a writer and develop your craft as you produce a manuscript for possible publication.
Overview
What does it take to be a professional writer in the twenty-first century? As a writer with some experience, you'll work with our team of professional writers and other creative professionals to refine your skills.
We'll help you develop your own philosophy of writing as you improve your craft. You'll study contemporary forms. You'll learn to read as a working writer. You'll try new techniques and explore the relationship between writing and society.
Your main focus will be working towards a final manuscript. You'll develop a deep understanding of your creativity and your craft as you reflect on your progress.
Uncover the hidden workings of the literary industry. Discover how to submit a piece to publication and prepare for a writer's life on our MA Creative Writing.
Course features
International students can apply
What you'll study
Write. Workshop. Submit. Benefit from individual feedback and develop the art of reading as a writer on our MA Creative Writing. Regular workshops are a key part of this course.
Explore how successful writers work and examine their philosophies and practices. Then experiment with your own methods of working as you develop your final manuscript. Full-time students will complete The Manuscript module within one year while part-time students focus on their manuscript in Year 2.
You'll research potential markets for your work. At the same time, you'll submit pieces for publication and keep a writing journal to support your ongoing development.
Into the World: The Contexts for Writing (Poetics)
Into the World: The Contexts for Writing (Practice)
On The Page: The Technique of Writing (Poetics)
On the Page: The Technique of Writing (Practice)
Poetics and Research Methods
How you'll study
The writing workshops are always taught in small groups, but the discussion groups involve seminars with a lecture component.
During the manuscript module (a dissertation) you will work one-to-one with your manuscript supervisor, bringing your months of study to a final creative fruition. All the modules you will take have been designed specifically for writers.
This is not the kind of 'Creative Writing' course that requires you to pick from already existing English Literature modules. The modules have been custom-designed for you.
How you'll be assessed
You will present your creative writing with a short example of poetics relating to the piece. You will write about works of contemporary literature and about the poetics of these writers, though you will approach these tasks from the perspective of a fellow-writer. All this work will help you develop towards the final piece of work, The Manuscript. The professional development audit and logs will be marked on a pass / fail basis.
Who will be teaching you
A team of seven, with extensive experience in poetry, fiction, non-fiction, short stories and scriptwriting teach on the programme.
As a Creative Writing student at Edge Hill University, you will have the opportunity to attend workshops and readings with a variety of guest writers at the Arts Centre. Close links have also been established with Liverpool's Everyman Theatre as well as other poetry venues across Merseyside.
Entry criteria
Entry requirements
You should have a degree equivalent to UK first-class or second-class honours (2:2 or above) or a degree with additional academic support, such as a diploma or comparable qualification, in a professional field.
Academic training in an arts subject is an advantage but a commitment to writing as a practice (at whatever stage in a writing career) is more important. A general willingness to participate and be self-critical and analytical is also important. A key part of the entry process is the presentation of a portfolio of your creative work (5,000 words of fiction or a group of 10-15 poems).
English language requirements
International students require IELTS 6.5, with a score no lower than 6.0 in each individual component, or an equivalent English language qualification.
If your current level of English is half a band, one band, or one-and-a-half bands lower, either overall or in one or two elements, you may want to consider our Pre-Sessional English course.
How to apply
There is an online application process for this course.
Please choose the application form for your preferred intake date and mode of study.
Please see our international student pages for further information about how to apply as a prospective international student.
Should you accept an offer of a place to study with us and formally enrol as a student, you will be subject to the provisions of the regulations, rules, codes, conditions and policies which apply to our students. These are available at www.edgehill.ac.uk/studentterms.
Did you know?
If you join a full time undergraduate degree at Edge Hill University, we will guarantee you the offer of a room in our halls of residence for the first year of your course.
Discover our accommodation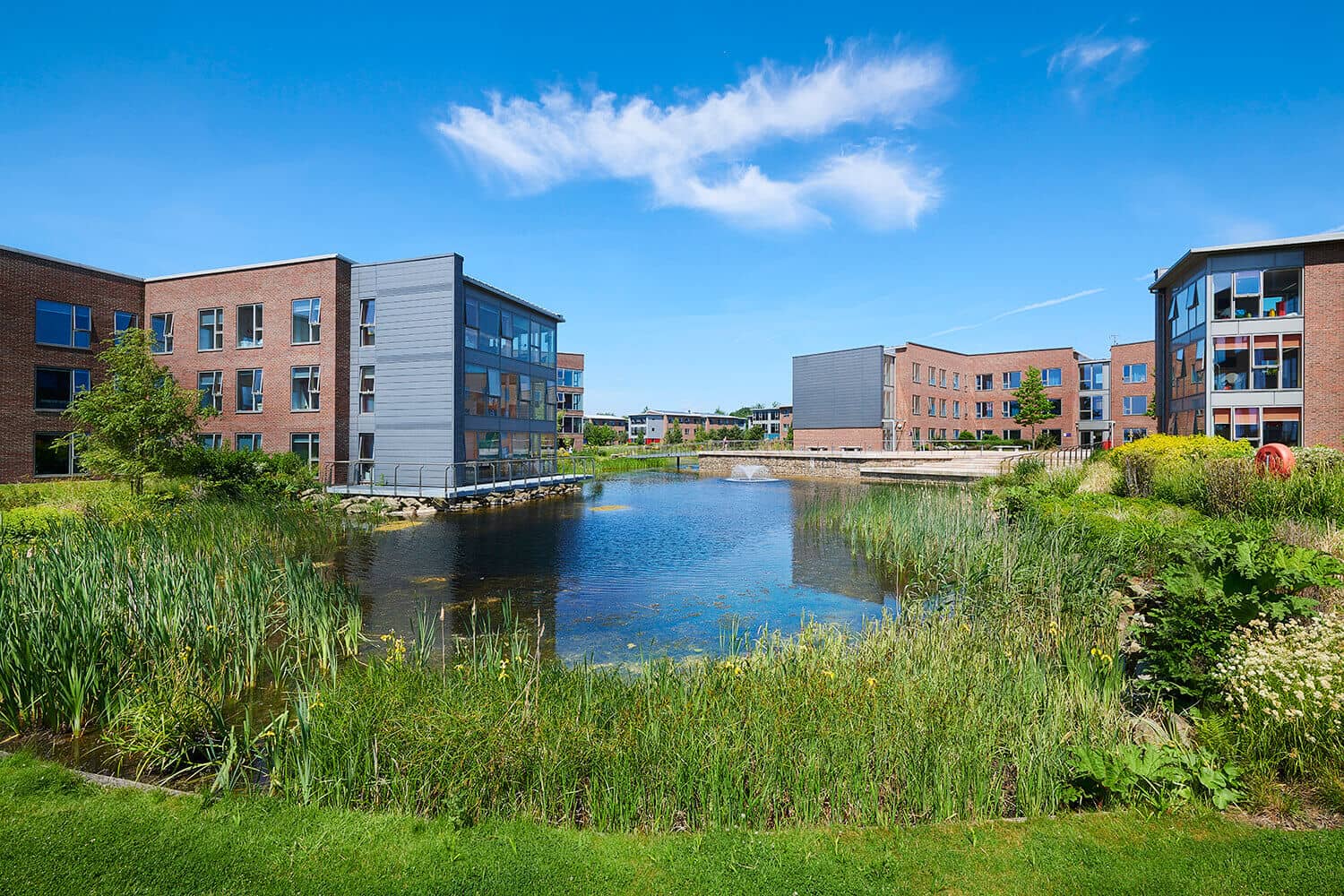 Facilities
The Department of English and Creative Arts is based in Creative Edge, a state-of-the-art £17million building offering highly contemporary facilities.
The £17 million Creative Edge building features a lecture theatre, seminar rooms, IT facilities and smaller tutorial spaces. It has everything you need to become a capable, versatile, creative writer and thinker. Creative Edge's social learning spaces are ideal for passionate discussion with like-minded creatives.
You'll develop the practical skills, analytical tools and confidence for wherever your creative flair and insight takes you.
Where you'll study
Finance
Tuition fees
UK Part-Time
£50 per credit
for the course
EU/EEA and Swiss students who have settled or pre-settled status under the EU Settlement Scheme, as well as Irish nationals, may be eligible for the UK tuition fee rate.
Financial support
Please view the relevant Money Matters guide for comprehensive information about the financial support available to eligible UK students joining postgraduate courses at Edge Hill University.
EU/EEA and Swiss students who have settled or pre-settled status under the EU Settlement Scheme may be eligible to apply for financial support. Irish nationals can ordinarily apply to Student Universal Support Ireland (SUSI). If you are an EU student who does not have settled or pre-settled status, or are an international student from a non-EU country, please see our international student finance pages.
Your future career
What can you do with a Masters degree in creative writing? Some of our graduates have gone straight into successful freelance writing careers. Others have found rewarding roles in publishing, content creation, and teaching. Positions they hold include:
editorial and publication manager
creative writing tutor
senior editor
content creator
Our students have gone on to work for high-profile publishers. We have alumni at Oxford University Press, Heroic Publishers, DC Thomson Media, and Comma Press.
You'll also find our alumni working at local colleges and schools, the NHS Leadership Academy and in content roles in the digital industries. While pursuing these careers, they continue to develop their portfolios.
Your future and employability matter to us. We flag writing competitions in our creative writing newsletter. You could also enter the Dame Janet Suzman Playwright award like Hywel Wilkie (alumni and winner 2018). He now has a seed commission as one of Liverpool Everyman's Young Writers.
Course changes
Every effort has been made to ensure the accuracy of this information, however our courses are subject to ongoing review and development. Changing circumstances may necessitate alteration to, or the cancellation of, courses.
Changes may be necessary to comply with the requirements of professional bodies, revisions to subject benchmarks statements, to keep courses updated and contemporary, or as a result of student feedback. We reserve the right to make variations if we consider such action to be necessary or in the best interests of students.
Track changes to this course
Download our course leaflet