Collaborative Performance Practice
MA
Become part of a vibrant, collective ensemble and discover the art of making performance on a course for performing arts graduates and emerging practitioners. Combine online study with intensive performance making opportunities.
Overview
This taught Masters degree places the the value of ensemble making practices at its heart, recognising the potential this approach to performance gives to the sharing of different perspectives. With an ensemble able to draw upon a wide range of experiences and skills, collaborative performance offers a collective approach to making performance. It will help you to respond to the uncertainties and rapidly changing environments in the creative industries of the twenty-first century. The course provides a platform for creativity that will enable you to develop your devising, choreographic and/or performance practice as part of a vibrant creative community. Whether you have recently graduated from a performing arts degree, or are already working as a practitioner in small-scale touring contexts, the course will enable you to enhance your skills in specialist areas of performance making. You will also develop an adaptable, collaborative business model as an emerging practitioner and discover key technologies in the digital arts. Honing your craft in group and ensemble collective performance, as well as through solo practice, you'll also develop expertise in performance research. The course provides a platform to make valuable connections across the creative industries, providing you with comprehensive insight into the relationships between the creative process and the generation of a performance product ready for an audience.
What you'll study
The course will introduce you to key theoretical and critical ideas and contemporary performance practice, enabling you to place in context the skills needed to create collaborative performance successfully.
Research skills training will introduce you to research processes, practices and methodologies in preparation for planning and conducting an independent, creative practice-based research project.
Dedicated modules interrogate the histories, cultural contexts, methodologies and strategies of solo performance and collaborative performance practice.
You will also examine key technologies in the digital arts to explore the influential relationships between creative practice, technology, culture and society.
Creativity and Technology in Context
Practitioner Research Project
How you'll study
The course is delivered using a blended learning model that provides the best of both in-person teaching and the flexibility of online learning.
The combination of weekly online sessions and monthly intensive practical sessions on campus will enable you to immerse yourself in the course, while also maintaining an ongoing professional presence in the performance industry or a related sector.
The intensive delivery of face-to-face sessions is modelled on professional practice, supporting your employability and enabling you to engage deeply with your practice.
How you'll be assessed
You will be assessed through a combination of written and performance outcomes.
Writing will take the form of both critical and reflective work, and performance practice will be largely self-devised, working from stimuli. Practical work will cover solo and group practice, with traditional and site-based venues open for exploration.
There will be a level of negotiation encouraged to ensure that practical outcomes meet the learning outcomes of the course, as well as develop your individual areas of interest.
Who will be teaching you
You will be taught by a dedicated team of professionally experienced practitioners and academic specialists who have extensive experience of professional practice and research in the arts.
The course team have skills and expertise in areas including actor training, visual theatre, live/performance art, choreography, and circus skills. The department also has industry links with a wide range of professional bodies, both regionally and nationally.
Entry criteria
Entry requirements
You should have a degree equivalent to UK first-class or second-class honours (2:2 or above) in a relevant subject such as dance, drama or musical theatre.
Applications will also be considered from those with equivalent professional experience.
An interview and audition form part of the selection process.
English language requirements
International students require IELTS 6.5, with a score no lower than 6.0 in each individual component, or an equivalent English language qualification.
If your current level of English is half a band or one band lower, either overall or in one or two elements, you may want to consider our Pre-Sessional English course.
How to apply
This is a new course currently in development. Online applications will open once the validation process is complete.
Should you accept an offer of a place to study with us and formally enrol as a student, you will be subject to the provisions of the regulations, rules, codes, conditions and policies which apply to our students. These are available at www.edgehill.ac.uk/studentterms.
Did you know?
If you join a full time undergraduate degree at Edge Hill University, we will guarantee you the offer of a room in our halls of residence for the first year of your course.
Discover our accommodation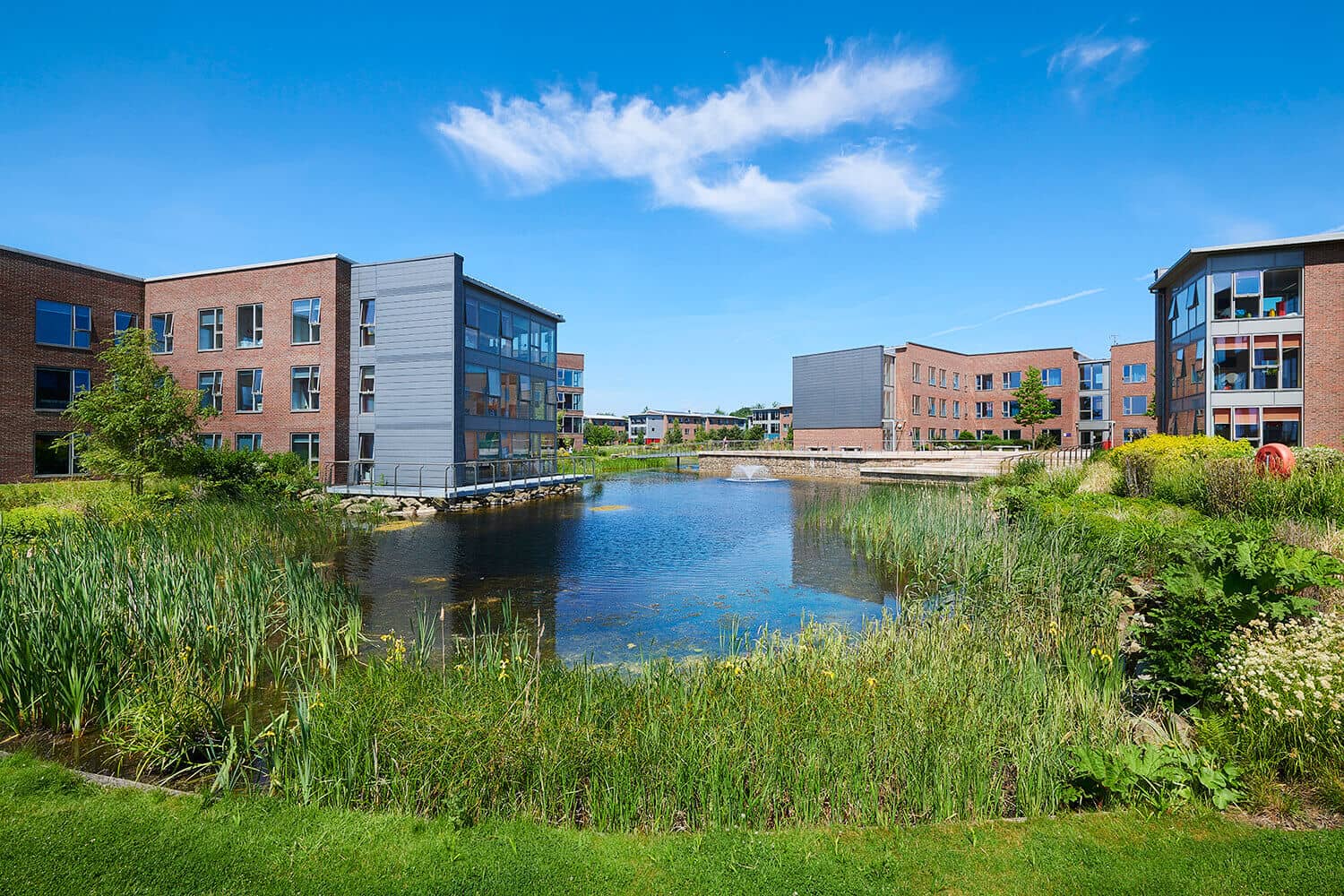 Facilities
Dance, Drama and Musical Theatre students at Edge Hill University enjoy industry-standard teaching and learning facilities in the £7million Arts Centre which is also home to the Rose and Studio Theatres.
The Department of Creative Arts' outstanding resources ensure you gain practical experience to a professional standard. Contemporary performance environments include dance studios, black box drama studios, rehearsal rooms, a theatre construction workshop, costume construction workshop, scene dock, theatre design studios, digital sound studio, digital design suite, music technology room, music practice studios, a recital room and an outdoor amphitheatre. The Studio Theatre also functions as a fully equipped aerial performance space.
The Arts Centre hosts a diverse range of high-quality productions and performers, including comedy, dance, drama and music, designed to supplement Creative Arts programmes and entertain both students and the local community.
Where you'll study
Finance
Tuition fees
Tuition fees for students joining this course in academic year 2023/24 are still to be announced. We will update this information as soon as it is available.
EU/EEA and Swiss students who have settled or pre-settled status under the EU Settlement Scheme, as well as Irish nationals, may be eligible for the UK tuition fee rate.
Financial support
Financial support arrangements for eligible UK students joining this course in academic year 2023/24 are still to be announced by the Government. You are advised to check this page regularly and once the position has been confirmed we will update this information.
EU/EEA and Swiss students who have settled or pre-settled status under the EU Settlement Scheme may be eligible to apply for financial support. Irish nationals should ordinarily apply to Student Universal Support Ireland (SUSI). If you are an EU student who does not have settled or pre-settled status, or are an international student from a non-EU country, please see our international student finance pages.
Your future career
The course will expand the performance practice and professional potential of both emerging and experienced practitioners working in the arts and related sectors. This will enable you to enhance your professional outcomes and employability opportunities.
Graduates of the MA in Collaborative Performance Practice will be well placed to pursue careers in theatre making, arts administration, education and project management. This could include working in roles such as theatre programmer, performance educator, education and outreach officer, dramaturg, or workshop facilitator.
Alternatively, you may wish to immerse yourself in performance practice research by studying for a PhD.
Download our course leaflet